A Birthday Gift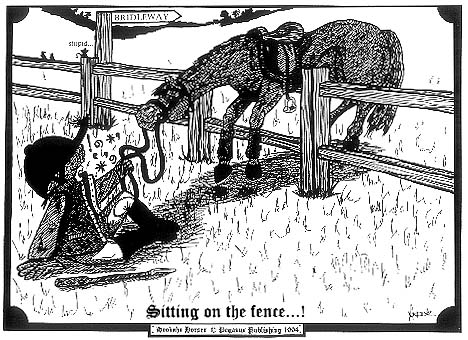 Annabelle is a housewife in her forties, her children are grown up and live on their own. She has always dreamed of riding, but was not able to do it until recently because she spent her days caring for her family. She now has more time for herself and has started to take riding lessons. She is a bit nervous, not really sure of herself on a horse, but she likes it. Her husband, wanting to surprise his wife for her birthday, shows up one weekend at a horse sale and right there and then, buys a horse that he is told is friendly and safe. Annabelle finds her new horse at the barn with a big ribbon around his neck; she is delighted. She starts to get acquainted with her new equine partner by gently pampering him, feeding him carrots and giving him lots of love. The horse is nice and calm in the barn.
A few days later, it's time for her first lesson with Jade. The first minutes go well, but when Annabelle asks for a canter, Jade runs off and takes her full speed around the arena while she hangs on helpless. Annabelle falls down and the horse must be caught. Bad start! The following days, same scenario. Annabelle's confidence is shaken, she gets increasingly afraid to ride Jade and she finally stops trying. Right about that time, she discovers the horse is lame. He has weak knees and falls on them, injures himself. Sutures, medicine, cooling treatments, wraps. Annabelle spends the following couple of months caring for her injured horse and paying the vet fees.
Once Jade is back to health, she decides to have him trained. Jade continues to run off at the canter, even under the saddle of a professional rider. The horse gets injured again. Annabelle cares for him another several weeks. And so it goes for several months. She decides to try to sell Jade. But finding a buyer will not be easy: the horse is not fit, not particularly attractive and moreover, difficult to ride. She keeps him 2 years before finally sending him to a facility for retired horses. Two years during which she spends money on a horse she cannot ride, worries about his health and cares for his injuries, but most importantly, two years during which her fear of riding keeps growing stronger.
What happened? Evidently, Annabelle's husband, acting with the best of intention, made the common mistake of trusting the dealer's assessment, and bought a horse without knowing anything about it. Annabelle, despite her love for Jade, did not have the experience nor the confidence to manage a horse that had obvious emotional issues and suffered physically. Her growing fear added to an already deteriorating relationship. Jade's physical problems could have been detected by a vet, but the husband was not aware that a vet exam should precede any purchase, and it was not done.