Finally, my first horse!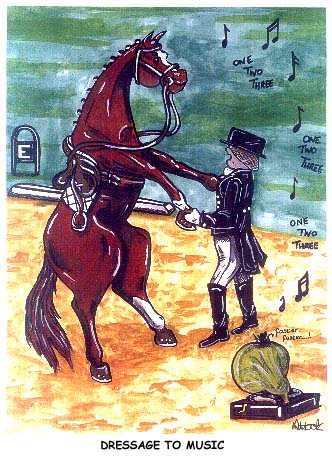 Lisa has been riding for several years, has rented horses for half board and estimates she is quite knowledgeable about horses. She is often on the show grounds, spends a lot of time talking to coaches and riders and asking questions. She rides several times a week, with lapses when she does not have a mount. She decides to buy her first horse and feels capable of finding the right one herself. After all, she has contacts in the equestrian community that can recommend good prospects. She does not have a lot of money to spend, but she would like a well-bred horse. Her quest for the good deal lasts many months, and she finally falls in love with a pretty 4-year old mare of known breeding. The mare is already over 17 hands and weighs about 1800 pounds. She appears well cared for, has been backed and kept out to pasture with other horses. The horse is affectionate and Lisa likes her right away.
Once back at the barn, Lisa notices quickly that Cloud has a lot of energy, but she is also high strung and very anxious. She does not react well to being separated from other horses or left alone by humans. The mare panics quickly and during the first week, injures herself kicking. Under saddle, she spooks easily. Lisa falls several times and gets injured twice. On line, Cloud cannot be led outside because she rears up and takes off, pulling the line from the hands of her owner. One of the barn employees is hurt while trying to lead Cloud out to the paddock. Lisa is herself an emotional and impulsive person, she is easily intimidated by Cloud's reactions, gets unnerved, which aggravates the mare's insecurity.
Very soon, the barn owners decide to stop turning Cloud outdoors because she is too high strung and cannot be left alone in the paddock without monitoring. Cloud only gets out of the stall when Lisa is at the barn, and only to go into the indoor arena, because Lisa also gives up on taking her outside for the time being.
Several months later, Lisa meets someone that has trained in various natural horsemanship methods and who agrees to work with Cloud on the ground. It's a lucky break for Lisa and Cloud. Roger, who does not back off in the face of Cloud's size and antics, uses desensitizing techniques and distance handling on the ground to work with Cloud. He manages to keep her relatively calm and to lead her outside, he gets her used to various unusual objects, to going through doors, etc. The mare improves on the ground and becomes quieter outside, but not enough to convince the barn staff to turn her out without supervision. Lisa decides to find a different barn for Cloud where the owners will find the time and the way to let her out more often, so she gets used to it and has a chance to unwind.
What happened? Lisa did have a certain level of knowledge with horses, and she is a decent rider, but she over-estimated her emotional capabilities with a young horse that is impulsive and has received only very basic education. Cloud became quickly dominant, which made matters worse. In addition, Lisa made a very common error: she bought a horse much too large for her, which meant she has to deal with physical constraints posed by her size and to bear the increased risk when Cloud gets flighty. Cloud is a smart mare, willing to work, but she needs to be exposed to a variety of situations to build her confidence, and to be handled by someone who has enough savvy to react correctly at the right time, who won't lose control of the situation and who is not afraid to stand up to the horse. In fact, Cloud was always quite insecure around Lisa but much calmer and focussed with Roger, who had a calmer demeanour. It's the classic example of a pair that are too similar, the horse and the human both very nervous and emotional, there is too much electricity between them and sparks fly!
Time, patience and a lot of work can definitely restore a balance to this partnership, but Lisa has undoubtedly set herself up for a tremendous challenge by choosing this type of horse.