Get Started!
One of the most important questions we receive is the following: Where do I need to start on my Parelli journey?
Here are a few tips to get you on your way and to set you up for success.
 Your Parelli Road Map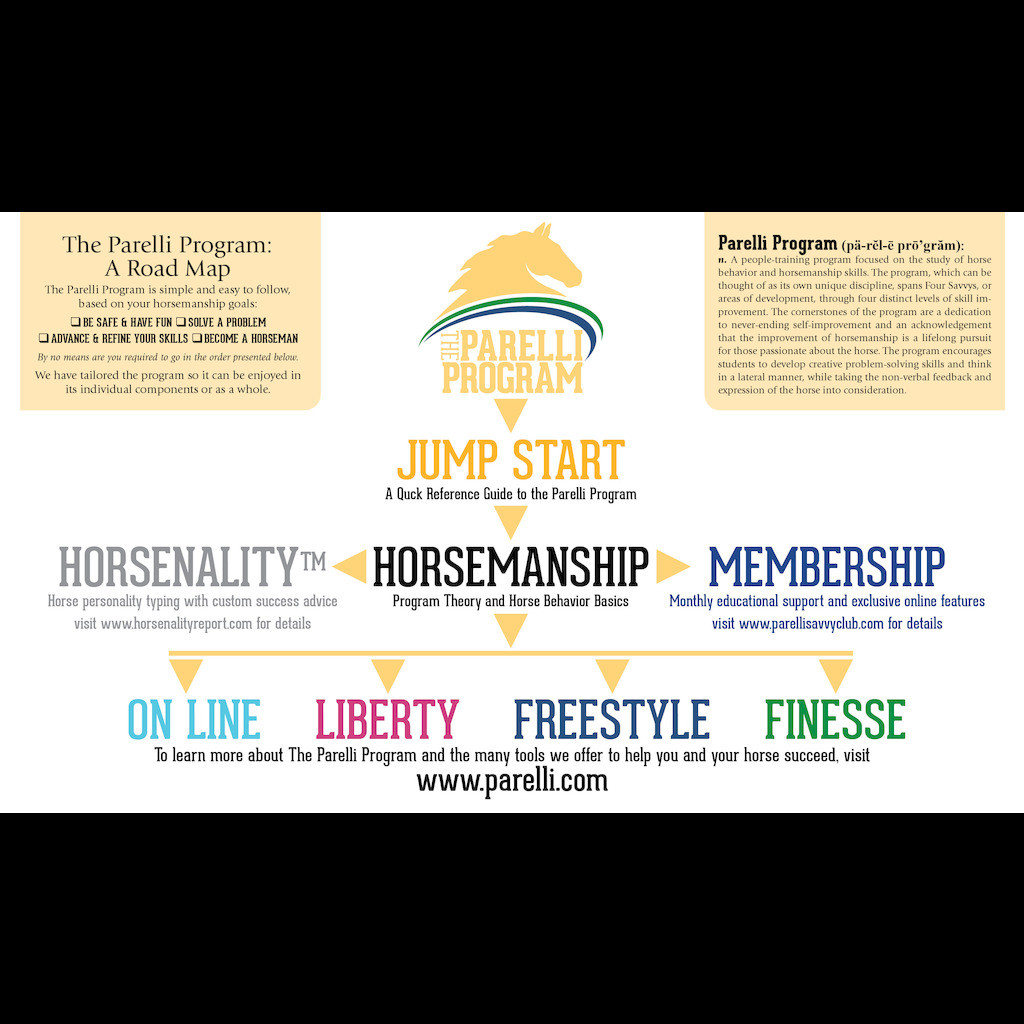 I LOVE MY HORSE!
You are just getting started and need to learn the basics? Even if you do not yet have your own horse, you can start using some of these great resources. Consider the following:
Become a member of the Parelli Savvy Club
This is a member site dedicated to Parelli students.  It contains a lot of great resources to support your training, including 12 months of virtual learning by theme.  You will be able to connect with other Parelli students and instructors through the forums, read and view content curated to the monthly topic, and receive access to a huge vault containing over 2,000 educational videos, podcasts and articles.  I use it everyday, and you will too!
To subscribe, go to www.parellisavvyclub.com and take a look at the various options (Bronze, Silver, Gold) to find the one that fits your needs.  Use referral code P8083 to register.
Purchase your Horsemanship Starter Kit
This starter kit includes everything you need to learn the basics – the right tools and the Horsemanship book, which will become a great reference for your journey. Parelli has designed high quality tools to help you be most effective when you are communicating and playing with your horse. Savvy Club members get a 25% discount on everything available through the Web Shop. Specials and promotions available on Parelli are announced on VifArgent's Facebook page, so make sure to Like our page!
Check out the Savvy Club knowledge library for videos and articles on horsemanship.
You can do a search by Level, by topic, by Savvy, etc. to get right to the topic you are looking for.
Organize or attend a horseless workshop
A great way to learn without the added expense and inconvenience of traveling with a horse. Horseless workshops can be a half-day or whole day. You will learn theory and concepts, practice your feel through simulations and if facilities permit, we can set up a basic demo with a horse on site. Perfect for the winter months! All we need is a room, a projector and a group of motivated students.
Audit a clinic
This is a great way to learn more and to see the program in action with different people and horses. You can take notes, ask questions and get familiar with the techniques and their application in various situations, as well as start building your support network. It's cheap too!
Set up lessons with a Licensed Parelli Instructor in your area
Depending on their star rating and horsemanship level, Parelli Instructors are licensed to teach one or more savvys to groups of defined sizes, and for durations lasting from a few hours to several days. A higher star rating means the instructor has more experience, received more training and acquired more depth and scope to teach a larger number of topics in the program.
Geneviève is licensed to teach the 4 levels in 4 savvys (On Line, Liberty, Freestyle and Finesse), as well as Fluidity, Saddle Fitting, Trailer Loading and Kids in clinic, workshop and lesson formats.
Geneviève will gladly teach beginners in a clinic or group setting (6 riders or more), which is your most cost effective option. Level 1 Clinics are 2 days. Additional days can be booked to start learning Freestyle (riding savvy). Private lessons can be arranged if she is already on site for a clinic, at a preferential rate for clinic participants who wish to spend extra time and receive individual attention.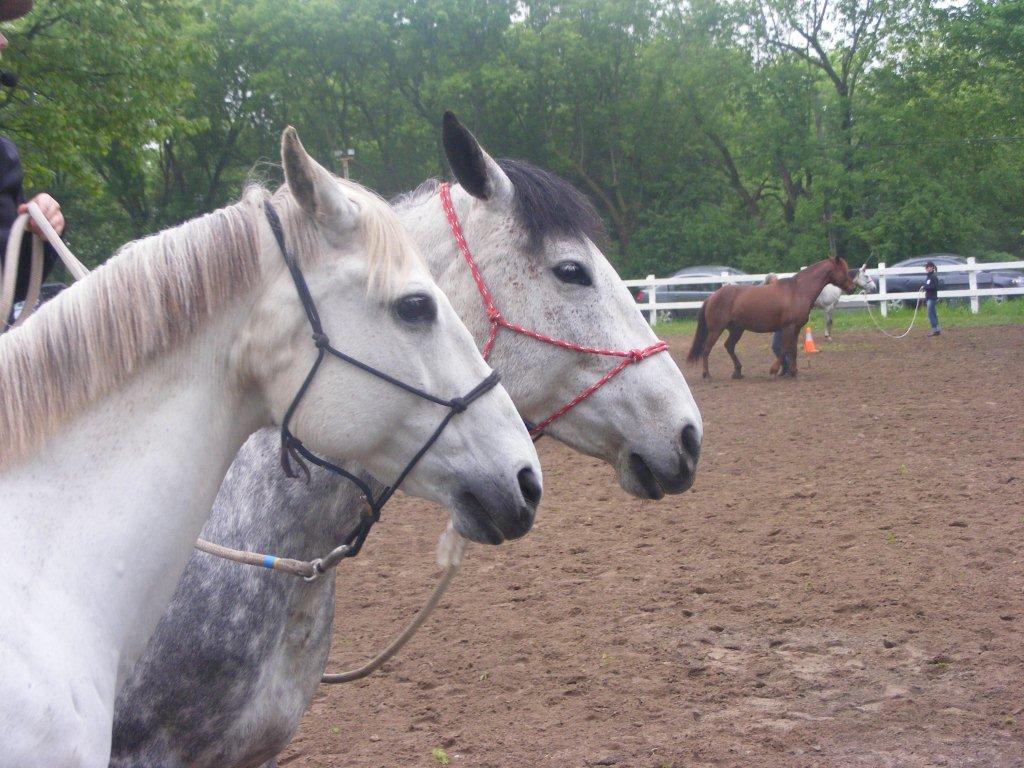 I LOVE PARELLI!
You are already in the program and looking to take your horsemanship further? You need to develop more confidence on the ground or in the saddle to move up in the levels? Or develop a deeper understanding of your horse and of the skills required to be effective? The following options are available in addition to all of the above:
Sign up for the Your Journey to SavvyTM group distance coaching program and/or a video coaching program
Several levels of support are available, depending on your budget, needs and dedication. This is a great way to get both group and one-on-one private coaching on a regular basis without having to leave home. Contact us for additional info and packages.
Organize a horseless workshop at your barn. See above for details.
Organize your own clinic at your barn where Geneviève will come in and instruct a group of 6 to 10 riders. Gallery students and auditors are welcome at clinics. Private lessons can also be arranged following a clinic for participants who wish to spend the extra time and receive individual attention.
Attend a clinic with or without your horse. Get involved in an in-depth Parelli immersion experience similar to what you might experience if you took a course at the Parelli ranch – without having to travel across the continent.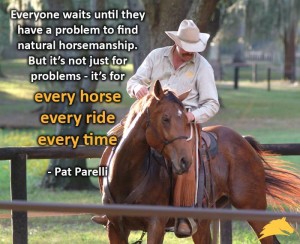 I WANT TO BECOME A HORSEMAN (OR WOMAN)!
You are studying at Level 3 or more and want to move on and make progress? You have professional goals, or are simply looking to excel with horses? Or you have made great progress, but right now are feeling stuck, confused or overwhelmed? All the above options are still available, but you might consider adding the following:
Attend a clinic with your horse. Get involved in an in-depth Parelli immersion experience similar to what you might experience if you took a course at the Parelli ranch – without having to travel across the continent.
Sign up for a VIPP (Very Important Parelli Private) clinic where Geneviève will come in and teach you at home, a tailored experience based on your specific needs and constraints. Build your own custom course experience and accelerate your learning!
The mentorship program (selective offering) helps you achieve your goals more quickly, whether it is to become a future professional, compete or build a life with horses. Get ready to be stretched and to learn the different components that it takes to become a true horseman. A limited number of positions are available by application only.
Don't hesitate to contact us for more information or if you need help getting started.
We wish you a lot of fun with Parelli and with your horse!