About the Web Shop
You can order your Parelli equipment and educational materials directly from this web site by clicking on the Web Shop.
You can browse the information for each product on line, place your order and take advantage of all special offers and discounts offered by Parelli. Use a credit card to pay for your purchases and choose your shipping option. If you are a Parelli Member, be sure to login to the shop with your user id to benefit from your member discount.
By shopping through an instructor's portal, you pay the same price as if you went straight to Parelli, but your instructor can earn a small credit on your purchases which helps us finance our continuing education. Thank you in advance for your support!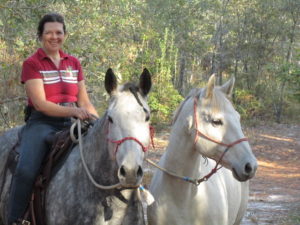 Important notice regarding Parelli equipment
Students regularly come to us saying they have seen "Parelli" equipment on sale in a tack store and asking whether it is a better deal. Simply put, equipment not sold on the Parelli web shop or by a Licensed Parelli Instructor is most likely not made by Parelli or Parelli approved! There are people who copy the Parelli tools and sell them – these copies can often be of lesser quality, may not be as effective as the real deal and do not meet the stringent requirements set by Pat Parelli for his designs. Real Parelli equipment is available through your licensed instructor, at Parelli events or on the Parelli web site. No one else has the right to use the Parelli brand; those who do are misrepresenting their products and services and breaking the trademark and intellectual property laws.
Nothing beats the quality and effectiveness of the real Parelli tools. Pat and Linda took years to perfect them and they have all been extensively tested in the field before being offered for sale. In addition, Parelli equipment comes with a warranty against manufacturing defects, and prices have come down a lot now that it is being manufactured in-house.
Half way measures only yield half way results – make the investment and buy the real deal, your horse will thank you for it!