Private, semi-private and small group lessons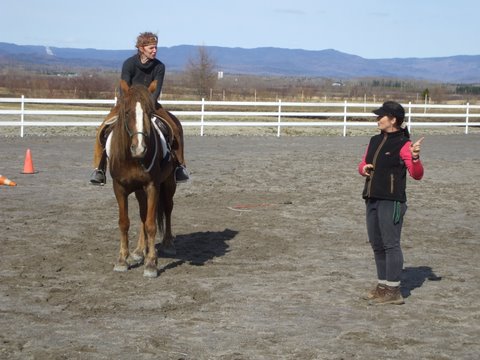 Group lessons allow you to share travel expenses and to learn with friends. 3 to 5 students per group, who are studying at the same level. Lessons are tailored to your level of experience and to your objectives, whether your goals are to relax, to become more confident, to gain ground skills or ridden skills, to better understand horse psychology, to become a horseman or woman, to advance in the program or any other objective. Emphasis is put on safety, respect for the horse and rider, and learning sessions that are fun and progressive. Lessons are given at your barn with your own horse, or with a horse that you would like to build a relationship with in order to advance.
For established groups (3 to 5 students) that are progressing and playing together, we are offering the monthly lesson series at a great price. Geneviève will meet you every month at a predetermined location for a personalized 3 hour lesson at your group's level and tailored to your needs. Minimum commitment of 3 monthly lessons booked in advance. You would like to join or form a group – contact us, we can help you locate other Parelli students in your area.
Private and semi-private (2 people) lessons. This is the way to go if you want to receive a lot of personal one-on-one interaction. There are no spectators, unless special circumstances warrant getting the instructor's permission.
Private and semi-private lessons are primarily available to clinic participants in the days surrounding the clinic while I am on site.
You must have already participated in a clinic with your horse to book private coaching.
For best value, purchase our 12 hour lesson package and save on the hourly fee!