Video Coaching Programs
THE SIMPLE AND AFFORDABLE SOLUTION FOR ONE-ON-ONE COACHING AND GREAT RESULTS!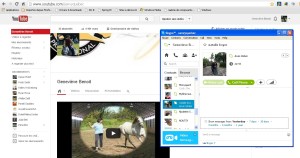 Traveling is too expensive or too difficult, but you need regular follow-up at home? You don't have access to an instructor in your area? You will enjoy the video coaching programs! We offer three different packages tiered according to your level of dedication and commitment to progress: Leisure, Progressive and Dedicated. You regularly send in short videos of you and your horse and we set up a coaching appointment where you get advice and pointers as well as individual feedback on your progress, wherever you are. It's a simple, inexpensive and personalized way to keep advancing and to stay on track, it is almost like having the instructor right there with you! No travel or trailer required, all you need is a video camera and a commitment to learning!
Ad-Hoc Video Coaching (hourly rate). You can't get to a clinic or workshop and need immediate help on specific issue? Send in a short video and get individual coaching to get you moving forward.
Please contact us first to find out the hourly coaching rate and for instructions on how to proceed.
Click here to download the details and subscription information.