Key 7: Support
In 2007, Pat Parelli added the seventh key:  support. As in any long term project that requires motivation, commitment, thoughtful planning and perspiration, the support of like-minded people who are on a similar journey becomes critical in allowing horsemanship students to continue advancing, keep on track, and as needed, to find encouragement and inspiration.
When I started on my natural horsemanship journey in 1999, it was definitely the path less traveled.  Only a very small handful of people in my part of the world had heard of this new approach to horses and we were not part of the 'in' crowd.  It was a lonely journey and I found myself connecting to other like-minded students mostly through various Internet groups and communities around the world.
Thankfully, things have evolved in the last ten years and there is a growing interest for natural horsemanship methods and the importance of building a sound partnership with the horse.  With an increasing number of prominent students who are succeeding in competitive circles, the likelihood of being dismissed as 'only good for people who don't ride' is subsiding.
Athletes such as Canadian Lauren Barwick, 4-Star Parelli Senior Instructor and Paralympian, who has been to 3 Paralympic Games, 4 World Championships and a great number of other international competitions;  Lauren most recently claimed Silver and Bronze at WEG in Normandy and gives inspiring demonstrations with her dressage horses all over the world.
Luis Lucio is head of the Spanish dressage team and has recently been appointed to the FEI.  He has been a long time friend of Linda and Pat Parelli and integrates natural horsemanship methods into his training program; in fact, Luis lists Parelli Natural Horsemanship right at the top of his home page.
Luca Maria Moneta is an international show jumper from Italy and a long time student of the Parelli approach who is making his mark worldwide as a successful competitor.  Luca has been dubbed the 'carrot man' after he explained in an interview how he won a puissance class at the European Championships by rewarding his horse's try with a carrot after each successful jump.
In the Western world, one of Pat Parelli's top students, Elli Pospsichil,  finished in the Top 15 at NCHA Cutting World Finals in Fort Worth, Texas in 2014.
So what does this have to do with support?  Well, these very inspirational people all have something in common:  they did not achieve their results alone.  They have sought and enlisted a lot of support and when they need help to resolve an issue or find a better way, they don't hesitate to go to someone who is more masterful than they are to get help.  They think up, not sideways, in everything they do, including when the time comes to find a mentor.
Nowadays, there is no reason to feel alone in your backyard or at your barn trying to learn.  There are Licensed Parelli Professionals available worldwide who have dedicated their lives to helping students reach their goals; most of them offer many different teaching formats, in person or through distance coaching.  They can help point you in the right direction, find the resources you need, get unstuck and support you through your journey.
In addition, the Parelli Program is underpinned by a robust membership based learning support system. If you want to achieve measurable and sustained improvement in your horsemanship skills, consider a Parelli Membership Plan a pre-requisite to that progress.  The Parelli Savvy Club is gathering a vast community of horse lovers and giving them access to a huge Learning Library available on line to support students on their pathway.
I love my horse.
I want to be the best I can be for him.
I want the kind of horse-savvy that motivates and excites me every day… to go play, to progress, to achieve my dreams… and have my horse be my willing partner.
Most of all, I want to be connected to people who love horses the way I do.
That's why I am in the Savvy Club.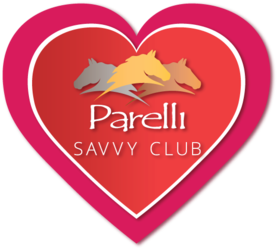 Parelli Savvy Club
Get Connected
The Savvy Club is the heart and soul of everything Parelli, and the home of information, education, social networking, Parelli Games and local clinics.  With your Parelli membership, you get to:
Learn with 12 new interactive videos and 12 on line magazines per year, delivered monthly according to themes, or Touchstones
Monitor your progress through the Parelli Program with interactive Action lists
Energize your training and keep things fresh with customized suggestions of what to try next

View member exclusive videos and articles

Participate in discussion forums with other students and instructors around the world

Get recognition for your progress and achievement with Parelli badges

Have priority access to the latest developments in the program that are constantly being added to the site

Receive 25% off all equipment, courses and learning materials, and take advantage of member only special sales advertised on the site
And more benefits are being added with each level!
Click here to find out more about the benefits of becoming a member.
Okay, sounds good, how much does it cost to become a member?
To take advantage of this opportunity, you can go to www.parellisavvyclub.com and choose the option that best suits your needs (Bronze, Silver, Gold).
A Referral Code is now required for new signups. You may use referral code P8083.
All levels of memberships give you access to the Parelli Vault.  With over 2 000 videos and additional articles and Q&A's, the learning library has everything you need to help you on your Natural Horsemanship journey. With easy navigation and searchable content, the Vault gives you the ability to learn where you want, and when you want.
Visit the web site for more info about the benefits of each level!

Please note that you need to be a Parelli member to submit your official Levels auditions and to register for a number of Parelli events.
Finally, there are play groups and natural horsemanship communities popping up everywhere, even in far away places like Africa and Indonesia.  If you reach out, you may find there several more like-minded horsemanship students near you just waiting to find a buddy and have play dates!  Or start you own support group, organize a few simple activities and you might be surprised who shows up!  We even have communities of students who are spread out in different countries and meet through Skype and video to challenge and support each other.  A great example of key no. 6, Imagination, at work.